Dow climbed 35, advancers over decliners 5-4 & NAZ added 6. The MLP index fell 7+ to 310 & the REIT index lost 1+ to 370. Junk bond funds inched higher & Treasuries remained weak. Oil is back above 40 & gold slide lower.
AMJ (Alerian MLP Index tracking fund)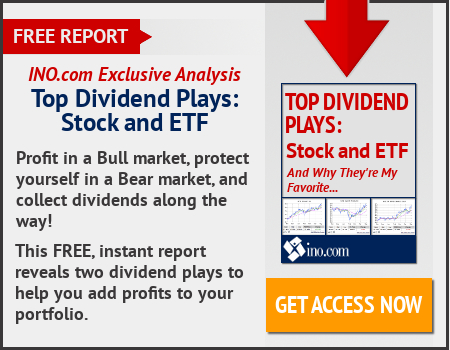 Companies in Jul added workers to US payrolls at a steady pace from the prior month, showing the labor market was holding up in spite of broader growth numbers that indicate a slowing in the economy. Private payrolls climbed 179K (forecast was 170K) following a revised 176K gain in Jun, according to the ADP Research Institute. Goods-producing industries, which include manufacturers and builders, cut headcounts by 6K & payrolls at service providers climbed by 185K.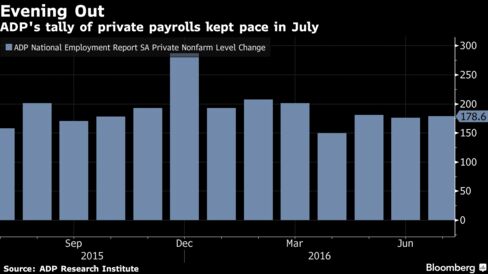 Hiring managers are finding enough stability in the demand outlook to keep adding to staff even amid rocky global economic conditions. The gov tally of payrolls rebounded in Jun to an 8-month high, and the report from the Labor Department on Fri probably will show employers added to staff at a similar pace to the average this year. While US consumers have been buoyed by steady job additions, burgeoning income gains & cheap borrowing costs, overall growth has shown pockets of weakness in the economy that threaten to derail job-market progress.
ADP Says Companies in U.S. Added 179,000 Employees in July
Growth at US service providers cooled in Jul after reaching a 7-month high, consistent with more measured progress in the economy. The 55.5 reading in the Institute for Supply Management non-manufacturing index followed 56.5 the prior month. Readings above 50 signal expansion. The forecast called for 55.9. Orders to the service producers (making up about 90% of the economy) rose to a 9-month high, pointing to further economic growth as manufacturing stabilizes. A healthy job market, higher property & stock prices, & low borrowing costs represent a favorable backdrop for consumer spending coming off its best quarter since 2014. The group's non-manufacturing survey covers an array of industries including utilities, retailing, and health care, & also factors in construction & agriculture. The ISM new orders measure advanced to 60.3, the strongest since Oct, from 59.9. The business activity index, which parallels the factory production gauge, was little changed at 59.3 from the prior month's 59.5. The index of non-manufacturing employment decreased to 51.4 from 52.7 the prior month & the gauge of prices paid dropped to 51.9 from 55.5. The ISM manufacturing index released earlier this week showed activity eased from a one-year high, with orders & production remaining strong while employers cut staff.
Time Warner raised its profit forecast for the year & disclosed a 10% stake in streaming TV service Hulu. The company also reported a higher-than-expected quarterly profit as it signed up more viewers to its premium HBO network. The Hulu deal comes at a time when TWX is facing stiff competition from streaming services as young viewers ditch traditional cable & shift to online services. TWX did not disclose the financial terms of the deal. The company expects adjusted EPSt for the year of $5.35-5.45, up from its previous forecast of $5.30-5.40. Analysts were expecting full-year EPS of $5.39. Revenue from the Turner division rose 6.5% during the qtr & revenue at HBO, which hosts the popular hit show "Game of Thrones", rose 2%. EPS was 1.20, up from 1.16 a year earlier. Excluding items, EPS was 1.29, compared with the estimate of 1.16. Revenue fell 5.3% to $6.95B from $7.35B, mainly due to a decline in its Warner Bros movie studio. The stock rose 2.38. If you would like to learn more about TWX, click on this link:
lub.ino.com/trend/analysis/stock/TWX?a_aid=CD3289&a_bid=6ae5b6f7
Time Warner (TWX)
The economic data today was inconclusive Dow is back to where it was a month ago. The stock market remains on defense, looking for reasons to go higher. The Fri jobs report will probably be bland, hard to top the prior one.
Dow Jones Industrials