Dow was off 15, adevancers over decliners 5-4 & NAZ lost 2. The MLP index rose 3 to the 315s & the REIT index recovered 3+ to 370. Junk bond funds were mixed & Treasuries advanced. Oil & gold went up..
AMJ (Alerian MLP Index tracking fund)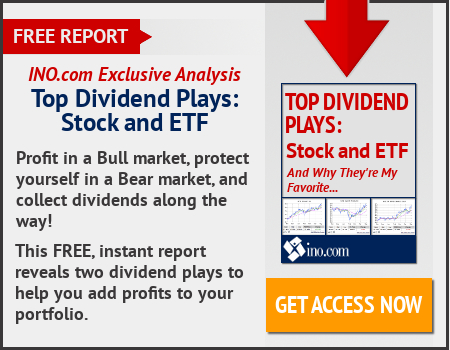 World powers urged Russia & Ukraine to refrain from ratcheting up a confrontation over Crimea as pres Putin bolstered the disputed peninsula's military with some of his army's most advanced air-defense missile systems. The EU said there was no independent confirmation of claims that Ukrainian agents had killed 2 Russian servicemen in Crimea. Putin pledged a "very serious" response as he blamed Kiev for pursuing "terror" activities. The EU called on both sides to refrain from intensifying what has led to the worst diplomatic standoff between the 2 countries since a 2015 truce eased hostilities in Ukraine's separatist conflict. Germany said that Foreign Minister Frank-Walter Steinmeier will meet his Russian counterpart, Sergei Lavrov, next week in Russia. "We reiterate our condemnation and non-recognition of the illegal annexation of Crimea," European Commission spokesman saidy. "There has been neither concrete evidence provided by Russia sustaining its claim nor any independent confirmation of the claims made by Russian authorities." The confrontation coincides with a surge in violence in Ukraine's eastern Donbas region, where gov troops are fighting rebels who Kiev says are getting cash, weapons & fighters from Russia. The flareup torpedoed plans to revive 4-way peace talks at the Sep Group of 20 meeting in China & raised warnings of a potential military conflict before Russia's Sep parliamentary elections.
World Powers Call for Calm as Putin Bolsters Crimea Air Defense
Sales at US retailers were little changed in Jul as Americans flocked to auto dealers at the expense of other merchants. The stalling of purchases followed a 0.8% gain in Jun that was stronger than initially estimated, according to the Commerce Dept. The forecast called for a 0.4% rise. Excluding cars, sales retreated 0.3%, the most since the start of the year.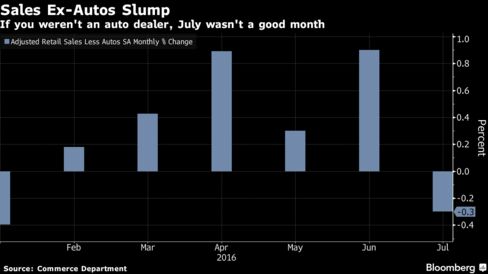 Improving car sales drained enough cash from consumers' accounts to cause demand at 8 of 12 other major retail categories to fall. While households have been bolstered by higher stock & home values, stronger wage growth would go a long way in improving purchasing power. Gasoline service station receipts dropped 2.7%, while sales weakened at sporting goods & hobby outlets, department stores, clothing merchants & restaurants. Core sales, used to calculate GDP which exclude such categories as auto dealers, gasoline stations & building materials merchants, were also little changed last month after 0.5% increase in Jun. Purchases at service stations fell 2.7%, the most since Feb. The data aren't adjusted for changes in prices, so fluctuating fuel costs can affect filling-station receipts. Sales of food & beverages at grocery stores declined 0.6%. At motor vehicle dealers, purchases improved 1.1%, the most since Apr, after a 0.5% advance.
German growth slowed less than predicted in Q2 while Italian output unexpectedly stagnated, signaling diverging fortunes for2 of the region's biggest economies as they brace for any fallout from Britain's decision to leave the EU. Germany's GDP product rose a seasonally-adjusted 0.4% in Q2, following an increase of 0.7%, the Federal Statistics Office, twice the rate forecast. Italy's economy unexpectedly stalled after expanding 0.3% in the previous qtr. Analysts predicted growth of 0.2%.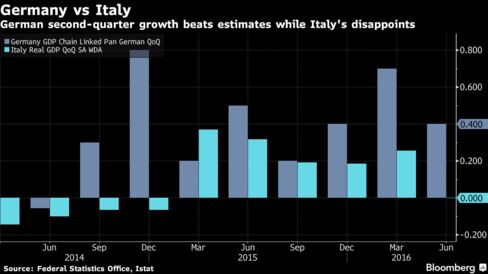 With GDP also stagnating in France, which reported initial data last month, & the Greek economy probably back in recession, Germany's role in keeping the euro-area recovery on track has risen as risks related to the outcome of Britain's referendum cloud the outlook. The Bundesbank is counting on record-low unemployment & rising wages to bolster output over the summer months & has predicted a pickup in Q3.
This is a good day for traders to go to the beach & enjoy the weather. War is brewing in eastern Europe, but few are concerned. The retail sales data was not inspiring while the popular stock averages are essentially at record highs. The disconnect between rising stock prices & lackluster economic data is discouraging.
Dow Jones Industrials