Dow lost 33, advancers ahead of decliners 5-4 & NAZ was off 5. The MLP index fell fractionally to 310 & the REIT index went up 1+ to the 362s. Junk bond funds were mixed & Treasuries declined. Oil pulled back from early gains (see below) & gold was a little lower.
AMJ (Alerian MLP Index tracking fund)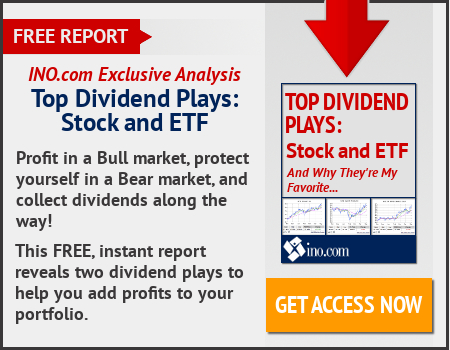 2 Federal Reserve officials argued the case for another interest-rate increase in interviews on the eve of an eagerly awaited speech by Chair Janet Yellen in Jackson Hole, Wyoming, that will be scoured for hints of a move that could come as soon as Sep. Federal Reserve Bank of Kansas City pres Esther George repeated her case that higher rates were warranted with the US nearing full employment & inflation rising toward the central bank's target. Dallas Fed chief Robert Kaplan separately said that "the case is strengthening" for another increase. Their remarks reflect one camp at the Fed in favor of moving soon that's debating with another group of policy makers who see no reason to rush. Investors are waiting to hear from the chair to figure out where she stands. Yellen speaks at 8 AM local time Fri in Wyoming. The formal topic of her remarks -- "The Federal Reserve's Monetary Policy Toolkit" -- implies a technical focus on the challenges facing the central bank in an era of tepid growth & low inflation. Investors will scrutinize any description of the economy in the chair's first public comments since Jun that will clarify if the Fed remains on track to raise rates later this year. The next meeting is Sep 20-21.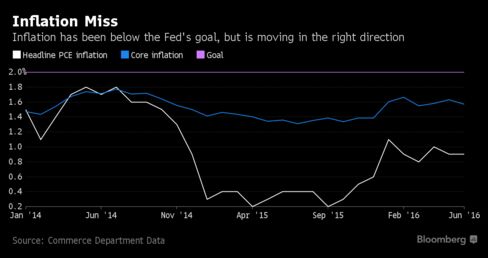 These 2 comments come after several other top Fed officials have signaled that a rate hike could be on the table in coming months . These include NY Fed chief William Dudley & John Williams of the San Francisco Fed, while Vice Chair Stanley Fischer said Sun the central bank was "close to our targets." "I thought it was time to continue the process of normalization of interest rates" in Jul, George, one of the most hawkish Fed officials, said. "When I look at where we are with the job market, when I look at inflation and our forecast for that, I think it's time to move." George dissented in favor of a hike in Jul, when officials left the target range for the benchmark fed funds rate unchanged. While she currently favors higher rates, she said her view could be shifted by economic data in advance of next month's policy gathering. "Where it will look at the September meeting, we will have to wait and see if anything changes," George said. "I don't think that we are going to need to have high interest rates. I don't think we need to cool off the economy by any means," she added. "But I do think that it would be appropriate to begin the process of continuing that normalization." Kaplan said that "in the not-too-distant future, if the facts continue to confirm" that the Fed is headed in the direction of its employment & inflation goals, "we're moving toward being able to take another step."
Fed Officials Push Hike Case Before Yellen in Jackson Hole
The number of Americans filing applications for unemployment benefits fell to the lowest level in 5 weeks, another sign of endurance in the labor market. Jobless claims fell 1K to 261K last week according to the Labor Dept. The forecast was for 265K. Companies are retaining workers, particularly those with experience and skills, keeping claims close to 4-decade lows & the jobless rate below 5%. Such durability, suggesting a labor market close to full employment, would be among forces that encourage Federal Reserve policy makers to raise interest rates by the end of the year.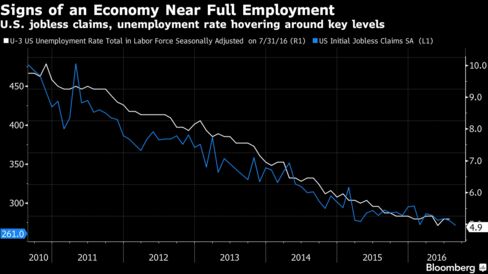 Filings have been below 300K for 77 straight weeks, the longest stretch since 1970. That is typically consistent with an improving job market. The number continuing to receive jobless benefits dropped 30K to 2.145K (below the forecast). The unemployment rate among people eligible for benefits held at 1.6%.
Oil prices rose on speculation the $ would drop on the Fri monetary policy speech by Janet Yellen, before paring gains on an interview with the Saudi Energy Minister that cast doubts about an OPEC output freeze. Crude futures rose more than 1% earlier in the session as the $ fell on expectations that Fri speech would hint at further delay in US rate hikes. Renewed speculation that next month's informal meeting between OPEC & other major producers could result in output curbs also bolstered prices. That was before Saudi Energy Minister Khalid al-Falih's interview, in which he said there had been no "discussions of substance yet" on OPEC production levels. He added that he did not believe any significant oil market intervention was necessary. West Texas Intermediate (WTI) futures edged up 10¢ (0.2%) at $46.87 after peaking at $47.28. Members of OPEC will meet on the sidelines of the International Energy Forum, which groups producers & consumers, in Algeria on Sep 26-28. There is speculation that OPEC & other producers, led by Russia, will agree to output curbs at the meeting. Few analysts expect such a deal, pointing to record OPEC production & a tendency by the group's key members, such as Saudi Arabia & Iran, to protect their market share at the expense of prices.
Oil Pares Gains, Saudi Energy Minister Talks Down Intervention
Not much going on today in the markets. Everybody is waiting to hear what Janet will say tomorrow. When she talks, everybody listens.
Dow Jones Industrials