Dow jumped up 96 to yet another record, advancers over decliners 5-2 & NAZ gained 18. The MLP index was up 1+ to the 335s & the REIT index added 2 to the 345s. Junk bond funds went higher & Treasuries dipped a little lower. Oil went up to the 54s & gold was off a tad, but up for the week (more on both below).
AMJ (Alerian MLP Index tracking fund)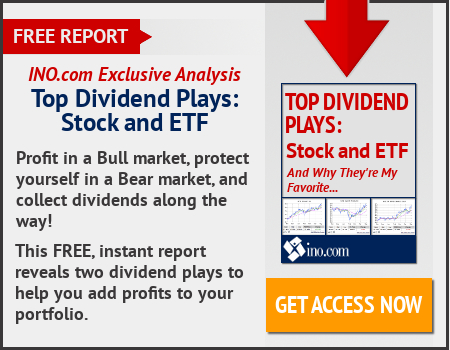 Pres Trump vowed that the currencies of the US, China & Japan would soon be on "a level playing field," a day after a phone call with China's president, Xi Jinping. The 2 leaders, Trump said in a news conference with Japanese Prime Minister Shinzo Abe, "discussed a lot of subjects & it was a long talk. "As far as the currency devaluations, I have been complaining about that for a very long time," he said. Trump promised as a presidential candidate that he would have the Treasury Dept declare China a currency manipulator on his first day in office. 3 weeks into his presidency, that has yet to happen. Last week, he accused Japan of manipulating the ¥, a charge Abe & other Japanese gov officials have denied. Trump did not explain how the 3 countries would reach a level playing field, or what he meant by the phrase. "That's the only way it's fair," Trump said. "That's the only way you can fairly compete in trade and other things. We will be on that field and we will all be working very hard to do great for our country but it has to be fair and we will make it fair." Currency traders initially responded to the comments by selling $s & buying ¥, though the market then reversed direction. The $ dropped rapidly to below 113¢ on the mention of devaluation, but quickly rebounded.
Trump Vows 'Level Playing Field' for U.S., Japan, China Currency
Daniel Tarullo, the Federal Reserve governor who is most known for his role in setting the central bank's regulatory policy, said he will resign on or around Apr 5. His term was due to expire in 2022. Tarullo, though mostly known for his role in bank regulation, was seen as an ally of Fed chief Janet Yellen on issues of monetary policy. "Dan led the Fed's work to craft a new framework for ensuring the safety and soundness of our financial system following the financial crisis and made invaluable contributions across the entire range of the Fed's responsibilities," Yellen said.
Oil futures climbed after the International Energy Agency lifted its forecast for global crude demand, but prices finished just 3¢ above the week-ago settlement. Mar West Texas Intermediate crude rose 86¢ (1.6%) to settle at $53.86 a barrel., the highest finish since Feb 1.
Data from Baker Hughes revealed that the number of active US rigs drilling for oil rose by 8 to 591 rigs this week. That marked the 4th weekly increase in a row. The total active US rig count, which includes oil & natural-gas rigs, also rose by 12 to 741.
Gold futures pared their losses shortly before the settlement, finding some support as the $ lost ground. The greenback fell against the ¥ as Trump held a press conference with Japan's Prime Minister Abe. Apr gold fell 90¢ to settle at $1235 an ounce after trading as low as $1222. For the week, prices tacked on roughly 1.2%.
Former Goldman Sachs Group pres Gary Cohn is leading the effort to craft Trump's plan to overhaul taxes that will be released within weeks, a White House official said. He stepped down as Goldman's pres & CEO in Dec after agreeing to lead Trump's National Economic Council, an influential panel that helps coordinate & develop the president's economic program. Just the thought of new, lower taxes has been driving the market, causing the Dow to surge above 20K this week. Trump is doing a tremendous amount of work which motivates movements in the stock market. The Dow is up almost 2K since his election because the stock market likes what it sees.
Dow Jones Industrials