Dow rocketed ahead 107 (closing near the highs), advancers over decliners only a little better than 4-3 & NAZ gained 36 as it approaches 6K. The MLP index went up a fraction to the 337s (a high since Oct 2015) & the REIT index lost 1 to the 343s. Junk bond funds barely budged & Treasuries were sold as stocks while stocks were being purchased. Oil was lower & gold moved ahead (more on both below).
AMJ (Alerian MLP Index tracking fund)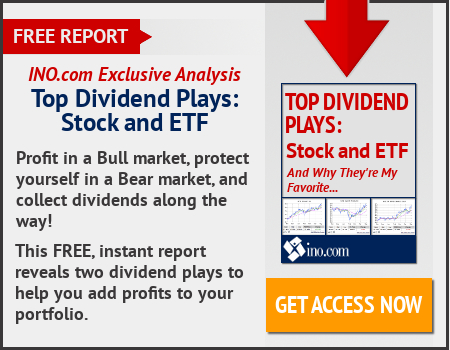 St. Louis Fed pres James Bullard appeared to take a different view on future rate hikes than that of Fed Chair Janet Yellen. Bullard said that the Fed can afford to wait until later in the year for a rate hike. Yesterday, Yellen told members of Congress that "waiting too long" to tighten policy "would be unwise" as detailed in her semiannual testimony (which continued on today). Bullard also suggested the uncertainty around Trump's policies won't be resolved by Mar 14-15, the date of the next scheduled FOMC meeting. Fed funds futures, a tool used to predict market expectations for monetary policy changes, have inched up odds of a Mar rate rise to 26% from 17% yesterday. He was more optimistic that the Fed and the new administration could put aside their differences saying, "The Fed and the Trump administration will get along famously."
As Fed Chair Janet Yellen touted the improving US job market & the Fed's economic policies during her semi-annual appearance, pres Trump stole the spotlight during a media presser, plugging his new initiatives to create more jobs & slash regulations. "My administration remains very focused on the issues that will encourage economic growth, that's what we're all about," he said during a meeting with top US retail CEOs. "We have a lot of, a lot of companies moving back in, coming back into the country, bringing the jobs with them. We're cutting regulations big league. We're really cutting them by massive amounts," Trump said. He also trashed the regulatory environment that evolved under the Obama administration, & in some cases, with respect to Dodd-Frank, was implemented by the Federal Reserve. "As you know the overregulation cost our economy an estimated $2 trillion a year which is incredible. It cost your businesses tremendous amounts of money and time. I've taken executive action of creating a permanent structure of regulatory reduction," he added. Meanwhile, Yellen was telling Congress that the US is nearing full employment & wage growth is picking up, along with consumer spending. When asked about Trump, she declined to speculate on his looming fiscal policies. However she did acknowledge that several surveys have cited regulation, taxes & uncertainty as factors holding back investment. "We understand [those factors] could be contributing to slow growth in investment spending, but there are other factors like sales growth at those firms, and overall economic growth," she explained. The US economy has been averaging growth of around 2%, a level Yellen described as "very disappointing."
The U.S. Energy Information Administration reported a 6th straight weekly increase in crude-oil supllies
Opens a New Window.
, lifting total commercial inventories to a record weekly level, based on data going back to 1982. Crude stockpiles rose 9.5M barrels to 518M barrels last week, the EIA said. The previous record was at roughly 512M barrels for the week ended Apr 29, 2016. The American Petroleum Institute yesterday reported a 9.9M-barrel climb for crude supplies, while analysts forecast a climb of 3.25M barrels. Gasoline supplies rose by 2.8M barrels, while distillate stockpiles were down 700K barrels last week. Mar crude fell 24¢ (0.5%) to $52.96 a barrel.
Gold futures settled higher, rebounding from losses over the past 4 trading sessions even as US equities climbed on the back of optimism surrounding the Trump administration's plans to deliver tax reforms. Apr gold rose $7.70 (0.6%) to settle at $1233 after tallying a 4-session loss of more than 1%.
Stocks are soaring to the heavens. The turmoil in DC must be record breaking, but Trump keeps charging ahead. Make no mistake about it, he is driving the rally. Hope & optimism are riding high. But this enthusiasm can not last, especially with so many nay-sayers trying to block every move he makes. Fake news is a booming industry & that creates chaos. Chaos is not good for a rising stock market. Nagging problems continue. A key one is that market breadth continues to be meager. Generally it has been around 2-1 in favor of advancers or even lower. And gold (negative bets on the stock market) remains fairly strong. These good times will not last forever.
Dow Jones Industrials