Dow climbed 163 closing near the highs, advancers over decliners an impressive 6-1 & NAZ added 53. The MLP index jumped up 7+ to the 309s & the REIT index gained 4+ to the 354s. Junk bond funds went up & Treasuries were a little higher. Oil rose to the 45s & gold also had a good gain (see below).
AMJ (Alerian MLP Index tracking fund)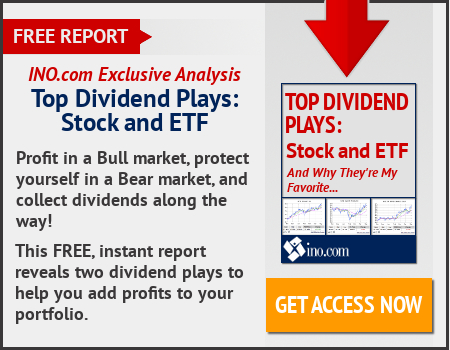 A divided Fed left its policy interest rate unchanged to await more evidence of progress toward its goals, while projecting that an increase is still likely by year-end. "Near-term risks to the economic outlook appear roughly balanced," the FOMC said. "The Committee judges that the case for an increase in the federal funds rate has strengthened but decided, for the time being, to wait for further evidence of continued progress toward its objectives." The 6th straight hold extends the run of getting cold feet amid risks from abroad & inconsistent signs of economic strength. Now the focus will shift to Dec as the Fed's likely last chance to raise interest rates in 2016, a move that depends on how the economy, inflation & markets fare in the months surrounding a contentious presidential election. 3 officials, the most since Dec 2014, dissented in favor of a qr-point hike. Esther George, pres of the Kansas City Fed, voted against the decision for a 2nd straight meeting. She was joined by Cleveland Fed pres Loretta Mester, in her first dissent & Eric Rosengren, head of the Boston Fed, whose previous dissents called for easier policy.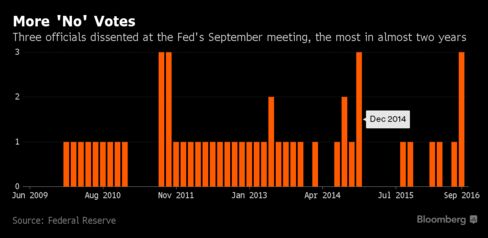 "Our decision does not reflect a lack of confidence in the economy," Janet Yellen said. "Since monetary policy is only modestly accommodative, there appears little risk of falling behind the curve in the near future." Policy makers see 2 rate hikes next year, down from their Jun projection of 3.
Divided Fed Holds Fire, Signals 2016 Rate Increase Still Likely
Boeing, a Dow stock, gained US approval to sell the first jetliners to Iran in almost 40 years as trade between the nations thaws following a nuclear pact. The license comes as BA continues to negotiate terms to provide as many as 109 jetliners to Iran Air. The Office of Foreign Assets Control has already issued licenses for the first 17 jets that Airbus is exporting to Iran under a $27B order for 118 jets announced in January. "Any final sales agreement would have to adhere to the license we've been issued," BA said. The Islamic Republic's flag carrier would add more of the iconic, hump-backed 747s, as well as the 777 & upgraded 777X wide-body jets under a $17.6B order for 80 aircraft. BA is also helping Iran Air line up another 29 planes from leasing companies. BA faces risks & uncertain rewards as it vies with Airbus to replace Iran's vintage fleet. Congressional opponents have vowed to block the exports. The US planemaker may also need to leave wiggle room to back out of any potential orders if the next US president decides to reinstate sanctions. There's also no assurance that all the orders will materialize, given the uncertain finances of Iranian airlines & competition from their Persian Gulf counterparts. The stock was up 2.77. If you would like to learn more about BA, click on this link:
club.ino.com/trend/analysis/stock/BA?a_aid=CD3289&a_bid=6ae5b6f7
Boeing Wins U.S. Approval for First Sales to Iran Since '77
Boeing (BA)
Gold finished higher, then wavered above & below the settlement in electronic trade after the Fed kept interest rates unchanged but said a rate hike was likely in the near future. Ahead of the Fed news, gold for Dec delivery settled at $1331 an ounce, up $13.20 (1%) from Tues.
No great surprise when the FOMC left interest rates unchanged. Janet can be counted on to find an excuse to do nothing & extend the "temporary condition" for low interest rates (for a decade). But there is some dissent & maybe a modest rate hike is coming. Earnings season is just a few weeks away & they are not expected to be inspiring.
Dow Jones Industrials