Dow was down 73, decliners over advancers greater than 2-1 & NAZ dropped 15. The MLP index lost 2+ to the 307s & the REIT index gave back 1+ to 360. Junk bond funds were a little higher & Treasuries slid lower. Oil continued its decline, falling to the low 45s, & gold saw some buying.
AMJ (Alerian MLP Index tracking fund)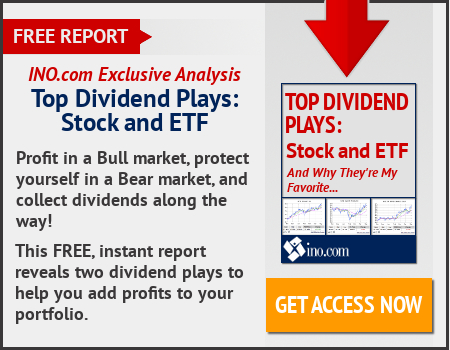 Manufacturing in the US unexpectedly contracted in Aug for the first time in 6 months amid slumping orders & production that raise concern of renewed industrial weakness. The Institute for Supply Management's index dropped to 49.4, weaker than the most pessimistic estimate, from 52.6 in Jul. The decline of 3.2 points was the biggest since Jan 2014. Fresh orders to American factories shrank for the first time this year, as production was cut by the most since 2012 & employment fell. The figures are surprising considering other data point to an economy that is bouncing back on the heels of still-robust consumer spending & progress in paring inventories. 11 of 18 industries surveyed posted a contraction, including electrical equipment, appliances & components; & apparel, leather & allied products. Among the 6 that reported growth were industries such as computer & electronic products; food, beverage & tobacco products; & chemicals. The setback in manufacturing probably signals companies remain hesitant to invest in equipment, with corp leaders awaiting the outcome of the presidential election & assessing the global economy's prospects. An ISM index level below 50 shows contraction. The forecast called for a reading of 52. The gauge of orders dropped to 49.1 from 56.9 a month earlier, the steepest slide since Jan 2014. Order backlogs deteriorated for a 2nd month, reaching the weakest level since Jan & signaling output will continue to languish. Less demand means producers have little reason to hire. The gauge of factory employment fell to a 5-month low of 48.3 from 49.4 in Jul. The measure has shown contraction in all but one month this year. The report also showed measures of inventories at factories & at their customers were each close to 50, indicating stockpiles are about where they should be. Combined with another month of growth in exports, whose gauge held at 52.5, & imports falling to 47 from 52, the report suggests the weakness in manufacturing may be related more to domestic demand.
Manufacturing in U.S. Contracts for First Time in Six Months
Fewer Americans than forecast filed applications for unemployment benefits last week, further evidence of a healthy labor market. Jobless claims rose by 2K to 263K according to the Labor Dept. The forecast called for 265K. The 4-week average dropped to a 3-week low. Hiring managers are hesitant to pare workforces as a tighter labor market puts a premium on skilled & experienced employees. With dismissals close to 4-decade low, sustained & elevated levels of hiring would boost the chances that Federal Reserve policy makers will raise interest rates by the end of the year. As companies continue to hire with the economy lagging behind, productivity has suffered. Filings have been below 300K for 78 straight weeks, the longest stretch since 1970, a level consistent with an improving job market. The number continuing to receive jobless benefits rose 14K to 2.16M & the unemployment rate among people eligible for benefits held at 1.6%.
Traditional Detroit automakers & Nissan reported US vehicle sales for Aug that missed estimates, increasing the odds that industrywide sales won't extend a streak of annual records. Ford (F) & General Motors (GM) posted bigger than expected declines as they sold fewer discounted models to fleet buyers while pickups & sport utility vehicles, important because of high profit margins, experienced a rare decline. Fiat Chrysler (FCAU) had a 3.1% gain but still fell short of predictions. The first wave of automakers' results reinforce the idea that the companies aren't doing deep discounts to chase sales, the practice that helped force GM & FCAU to restructure thru bankruptcy in 2009.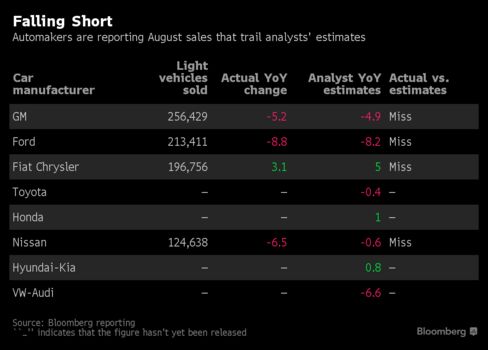 Aug reports may show a seasonally adjusted annual sales pace of about 17.2M cars & light trucks, down from a 17.9M rate in Jul (the highest this year). Incentives were lower than in Jul, when GM offered 20% cash back on several Chevrolet models. Sales of Ford's F-Series pickups, the top selling vehicle line in America, fell, as did Explorer SUV deliveries. Car sales plunged 25% as low fuel prices continued to steer buyers into SUVs & trucks. Overall sales, excluding heavy trucks, fell 8.8%, more than the predicted 8.2% drop. GM sales fell 5.2%, a little steeper than the 4.9% drop projected. FCAU sales of its Ram pickup slipped 0.2%, smaller than declines GM & Ford reported for their full-size trucks. Nissan sales fell 6.5%, a steeper drop than the 0.6% decline estimate. Sales fell at both its namesake brand & the Infiniti premium brand. The Nissan brand did set an Aug record for sales of crossovers, SUVs & pickups with a 19% gain. Sales of the Frontier midsize pickup more than doubled while Murano crossover deliveries jumped 29%.
Ford, GM Deliveries Drop in August as Pickups Show Rare Decline
Markets are soft in quiet trading. Many are away so price movements are not significant & popular averages remain near record highs. However the sluggish tone of today's data has to be disturbing for the bulls.
Dow Jones Industrials