Dow climbed 46, advancers over decliners 4-3 & NAZ went up 26. The MLP index rose 2+ to the 316s & the REIT index jumped up 6 to the 367s. Junk bond funds continued mixed & Treasuries also gained. Oil had a very good day (see below) & gold had a very good day, rising 26.
AMJ (Alerian MLP Index tracking fund)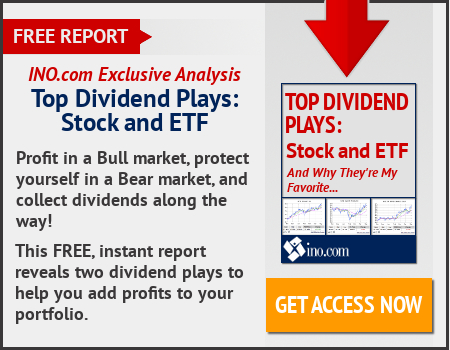 China is eating up a larger chunk of the world's shrinking trade pie. Brushing off rising wages, a shrinking workforce & intensifying competition from lower cost nations from Vietnam to Mexico, China's global export share climbed to 14.6% last year from 12.9%, the highest proportion of world exports ever in IMF data going back to 1980.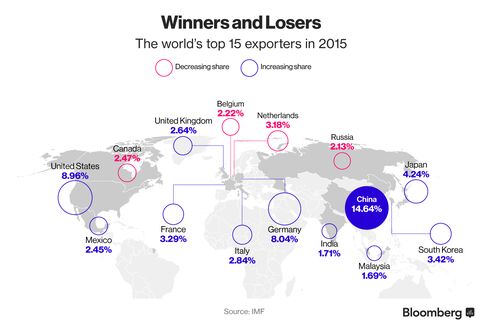 Yet even as its export share climbs globally, manufacturing's slice of China's economy is waning as services & consumption emerge as the new growth drivers. For the global economy, a slide in China's exports this year isn't proving any respite as an even sharper slump in its imports erodes a pillar of demand. Those trends are likely to be replicated in Aug data due Thurs. Exports are estimated to fall 4% from a year earlier & imports are seen dropping 5.4%, leaving a trade surplus of $58.8B. While China's advantage in low-end manufacturing has been seized upon, the shift into higher value-added products from robots to computers is also pitting China against developed-market competitors from South Korea to Germany. A weaker yuan risks exacerbating global trade tensions, which became a hot button issue
at the G-20 meeting over cheap steel shipments.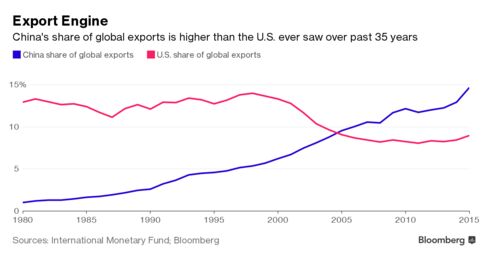 China is also facing opposition to its global shopping spree & calls from bodies such as the EU Chamber of Commerce in China for improved market access.
China's Export Machine Is Grabbing More of the Global Market
Oil futures settled higher, finding support after Russia & Saudi Arabia said they would set up a working group to monitor the oil market & come up with ways to promote stability. October WTI crude rose 39¢ (0.9%) to settle at $44.83 a barrel. Prices traded as low as $43.84 during the session, amid doubts over potential action among the major oil producers to boost prices.
The Cadillac ATS-L is a China-only model that has a longer wheelbase & more space in the back seat than the US-market ATS. It has been a big seller for General Motor's luxury brand. GM said that its deliveries in China rose 18% to 293K vehicles in Aug, backed by strong demand for the Cadillac, Buick, & Baojun brands. YTD, GM deliveries in China are up 8.1% from the same period a year ago. GM's Cadillac brand posted the biggest year-over-year gain, with sales up 93% from a year ago to 9914 vehicles. The star is the brand-new midsize XT5 crossover, which has hit a sweet spot in the Chinese market. Sales broke 3K for the first time. GM stock slid back pennies. If you would like to learn more about GM, click on this link:
club.ino.com/trend/analysis/stock/GM?a_aid=CD3289&a_bid=6ae5b6f7
General Motors (GM)
The data on service industries did little for stocks, but hopes are high for agreement on production limits for oil at the big meeting in a couple of weeks. Iran could be a major dark cloud, it wants to resume pumping oil at its old levels. Additionally, producers such as Nigeria & Libya can increase production if their civil wars are settled. Most traders should be back at their desks tomorrow. That trading will be more meaningful.
Dow Jones Industrials