Dow gained 31, decliners barely ahead of advancers & NAZ went up 18. The MLP index lost 2+ to the 308s & the REIT index added 1+ to the 351s. Junk bond funds were little changed & Treasuries declined (see below). Oil fell (see below) & gold was also sold.
AMJ (Alerian MLP Index tracking fund)
Light Sweet Crude Oil Futures,N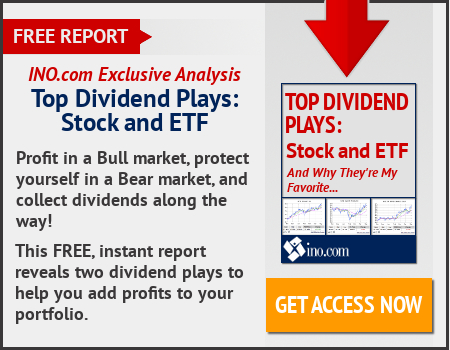 Federal Reserve Bank of Atlanta pres Dennis Lockhart repeated his call for a "serious discussion" about raising interest rates at the central bank's meeting later this month, even after some recent disappointing economic indicators. "Notwithstanding a few recent weak monthly reports -- from the Institute for Supply Management
, for example -- I am satisfied at this point that conditions warrant that serious discussion," Lockhart said. The FOMC meets next week. Recent comments from committee members point to a division over the need to raise interest rates. Fed Governor Daniel Tarullo repeated a cautious assessment of the economy, while Boston Fed pres Eric Rosengren argued there was a reasonable case for gradual tightening. Minneapolis Fed chief Neel Kashkari said he saw no urgency to act and preferred to see more upward movement in core inflation. "After relatively weak growth over the first half of the year, I expect a stronger second half," Lockhart said, citing the bank's estimate. Q3 growth was tracking at 3.3% on Fri, according to the Atlanta Fed's tracking estimate. The economy is "making progress" toward full employment, Lockhart added, though progress in moving inflation toward the 2% goal may have stalled. "The inflation data overall have not been suggesting disinflation or deflation, but the flat trend line is enough below target that, in my opinion, the shortfall cannot be considered immaterial," he said. "I find this to be an awkward state of affairs."
Fed's Lockhart Urges Serious Discussion of Rate Hike This Month
Oil extended declines following the biggest drop in more than a month after US producers increased drilling & OPEC boosted its estimate for rivals' output next year. Futures slid 2.5%, after losing 3.7% Fri. Rigs targeting crude rose for a 2nd week to 414, the most since Feb. OPEC flipped its forecasts for rival supplies in 2017, predicting an increase in output from outside the group instead of a decline.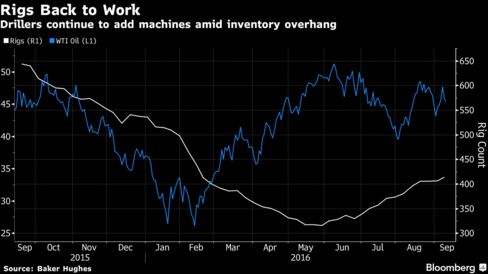 Oil has fluctuated since rallying in Aug amid speculation OPEC & Russia would agree on measures to stabilize the market later this month. All solutions are possible, Algeria's energy minister said. A deal to cap production was proposed in Feb but a meeting in Apr ended with no final accord. Meanwhile, US drillers have been adding rigs after slashing costs. West Texas Intermediate for Oct delivery slipped 71¢ (1.6%) to $45.17 a barrel after dropping $1.74 to $45.88 Frid. The US rig count gained by 7 last week, boosting the numbers of machines added since the start of Jul to 84. US crude stockpiles are at 511M barrels, the highest seasonal level in at least 3 decades, according to the Energy Information Administration.
Oil Extends Drop as U.S. Drillers Return, OPEC Sees More Supply
Treasury prices fell further, pushing yields higher as expectations that the Fed will soon raise interest rates continued to drive financial markets. The yield on the 10-year Treasury note rose 1 basis point to 1.688%. The interest rate on the benchmark note on Fri climbed 5.7 basis points to 1.671%, it's highest level since Jun 2 (the day of the Brexit vote). The rise in yields came after Boston Fed pres Eric Rosengren on Fri said a "reasonable case can be made" for raising interest rates, fueling expectations a rate hike could happen as soon as next week. The CME FedWatch Tool is currently indicating a 24% probability of a tightening at the Sep 20-21 meeting & an almost 60% chance for an increase in Dec. The yield on the 2-year Treasury note (most sensitive to a rate change), gained 1 basis point to 0.7942% today.
Stocks were sold at the opening, then buying came in. There has been a lot of talk by Fed officials about a rate hike. That could be their way of giving warnings, so markets can prepare for a rate hike (something the bulls fear). Oil continues to slosh around in the mid 45s, hanging on every word that mentions the big oil meeting at month's end. It will remain volatile, another major driver for stocks when economic fundamentals get so little attention.
Dow Jones Industrials