Dow finished up 18, decliners ahead of advancers 5-4 & NAZ gained 13. The MLP index was up a fraction in the 310s & the REIT index declined a fraction in the 361s. Junk bond funds were a little lower & Treasuries did little. Oil sank to the 43s (recording a loss every day this week) & gold was a little higher.
AMJ (Alerian MLP Index tracking fund)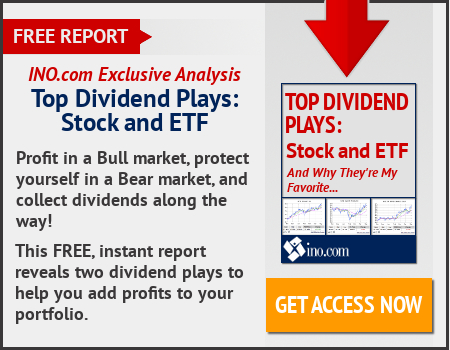 Hewlett Packard Enterprise shares jumped after a report that the company is looking to sell its software business in a multibillion-dollar deal. The report said that HPE was negotiating with private-equity firm Thoma Bravo, seeking a price of $8-10B, after Thoma Bravo beat out other private-equity suitors. The enterprise-focused spinoff of the former Hewlett-Packard (HP) built its software unit thru acquisitions, including the ill-fated purchase of Autonomy for more than $10B, a deal that has led to HPE accusing Autonomy of fraud. CEO Meg Whitman is looking to sell the unit to focus on hardware like networking, servers & storage. The stock shot up 68¢. If you would like to learn more about HPE, click on this link:
club.ino.com/trend/analysis/stock/HPE?a_aid=CD3289&a_bid=6ae5b6f7
Hewlett Packard Enterprise (HPE)
The EU imposition of a €13B ($14.5B) back tax bill on Apple,a Dow stock, is "total political crap", CEO Tim Cook said, & anti-US bias may have played a role. He also vowed to boost AAPL's tax payments by repatriating $B in global profits to the US next year. "They just picked a number from I don't know where," Cook said & estimated AAPL's average annual tax on its profits at 26%. Cook said he would fight closely with Ireland to overturn the ruling, which he said had "no basis in law or in fact". It is by far the largest anti-competition penalty imposed on a company by the EU. "No one did anything wrong here and we need to stand together. Ireland is being picked on and this is unacceptable," Cook added. "I think that Apple was targeted here," he continued. "And I think that (anti-U.S. sentiment) is one reason why we could have been targeted." "I think it's a desire to reallocate taxes that should be paid in the US to the EU," he added. AAPL was found to be holding over $181B in accumulated profits offshore, more than any UB company, in a study published last year by 2 left-leaning nonprofit groups. "We paid $400M to Ireland (in 2014), we paid $400M to the US & we provisioned several $B for the US for payment as soon as we repatriate it & right now I forecast that repatriation to occur next year," Cook said. Cook is very confident his appeal would succeed & said AAPL was committed to expanding its operations in Ireland despite the ruling. The stock went up 63¢. If you would like to learn more about AAPL, click on this link:
club.ino.com/trend/analysis/stock/AAPL?a_aid=CD3289&a_bid=6ae5b6f7
Apple (AAPL)
Wal-Mat, a Dow stock & Dividend Aristocrat, will cut 7K back-office jobs, mostly in accounting & invoicing positions at its US stores, continuing a program it announced in Jun of cutting such jobs on the West Coast. The company will now cut back-office workers in all its almost 5K stores over the next several months. The retailer employs about 1.5M in the US. The move is part of its efforts to have more employees on the sales floor, & the retailer is offering affected workers consumer-facing positions in stores. In Jun, WMT said it would cut back-office jobs in hundreds of stores & if it was satisfied with the changes it would roll it out to other stores. Recently, the retailer launched a new system for scheduling workers at 650 US stores in an effort to improve staffing levels during peak shopping times. Wal-Mart has also committed to investing $2.7B in programs that involve training its workforce & a series of wage hikes that took the minimum hourly pay for store workers to $10 an hour earlier this year. The stock rose 1.40. If you would like to learn more about WMT, click on this link:
club.ino.com/trend/analysis/stock/WMT?a_aid=CD3289&a_bid=6ae5b6f7
Wal-Mart (WMT)
There was late day buying which brought the popular averages back into the black. But the stock market remains weak & selling is encouraged by the decline in oil this week. When the bulls return next week, they will, try to reactivate bullish sentiment in the stock market.
Dow Jones Industrials