Dow dropped 258, decliners over advancers a very big 8-1 & NAZ declined 56. The MLP index plunged 10+ to the 299s & the REIT index sank 9+ to the 345s. Junk bond funds remained weak & Treasuries were sold. Oil had another bad day (see below) & gold had a minor loss.
AMJ Alerian MLP Index tracking fund)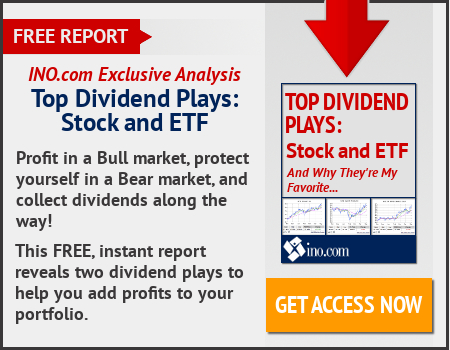 Light Sweet Crude Oil Futures,N
Americans' incomes jumped in 2015 by the most since the last recession & the poverty rate fell. Fresh yearly data from the Census Bureau showed median, inflation-adjusted household income rose 5.2% to $56.5K in 2015, the highest level since $57.4K in 2007, when the recession began. Gains were spread across the income spectrum & by race, while women's earnings inched closer to men's.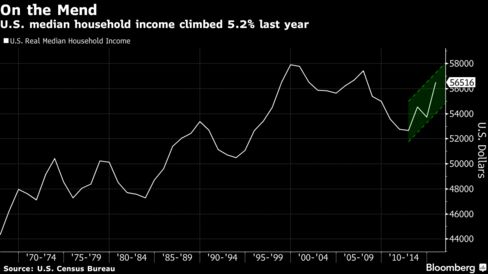 The data suggest incomes are getting a boost from job gains to help break out of the stagnancy that's been a blemish on the 7-year economic recovery. The poverty rate was at 13.5%, representing 43.1M Americans, a drop of 1.2 percentage points from 2014. The rise in median income was due mainly to an increase in employment & in full-time, year-round workers, with 1.4M men & 1M women added. Even with a 7.3% gain from its post-recession low of $52.6K in 2012, median income was still 2.4% below its inflation-adjusted peak of $57,9K in 1999.
U.S. Households' Income Shows Biggest Jump Since Recession
The federal gov recorded a deficit of $107.1B in Aug, slightly lower than the Jul deficit. But the imbalance thru 11 months of this budget year is up sharply from a year ago, reflecting higher spending & lower-than-expected tax revenues. The Treasury Dept says the deficit, with just one month to go in the budget year, totals $620.8B, up 17.1% from the same period a year ago. The Aug deficit was slightly lower than the $112.8B imbalance in Jul. The Congressional Budget Office last month revised its estimate for the 2016 deficit up sharply to show an imbalance of $590, up from a Mar projection of $534B. The budget year ends on Sep 30 & Sep is expected to show a surplus.
Oil fell after a series of predictions on demand growth that pointed to the global overhang of unused inventories persisting for much longer than previously expected. The International Energy Agency (IEA) said that a sharp slowdown in global oil demand growth, coupled with ballooning inventories & rising supply, means the crude market will be oversupplied at least thru H1-2017. That view marked a change from the agency's forecast a month ago, when it forecast supply & demand broadly in balance over the rest of this year & expected inventories to fall swiftly. The IEA's latest comments follow a surprisingly bearish outlook from OPEC yesterday. West Texas Intermediate futures declined 70¢ to $45.59. Upbeat Chinese data on industrial output growth for Aug failed to lift oil prices as the crude market remained in profit-taking mode. China's industrial output grew the fastest in 5 months as demand for products from coal to cars rebounded thanks to higher gov spending & a year-long credit & property boom. Speculators in US & Brent crude futures took an axe to their long positions in the latest week, cutting the combined net speculative length in the 2 contracts by 80M barrels. Ahead of gov data, the forecast is that US commercial crude oil stocks are likely to have risen last week after marking the largest plunge since 1999 in the previous week.
Oil Falls on Darkening Outlook
The Dow chart below does not so pretty. But technicals don't mean much. Traders are most worried about what Janet will have to say regarding an interest rate hike. Today's market shows they are WORRIED. Interest rates have been near zero for a decade in what was supposed to be a temporary fix. Sadly, many have gotten used to these rates & are hoping they will last forever. Maybe as long as Janet is in charge.
Dow Jones Industrials