Dow climbed 91, advancers over decliners 4-1 & NAZ gained 28. The MLP index rose 1 to the 311s & the REIT index added 2+ to the 364s. Junk bond funds were slightly higher & Treasuries retreated as stocks were purchased. Oil recovered on hopes for production limits later in the month & gold was a little higher.
AMJ (Alerian MLP Index tracking fund)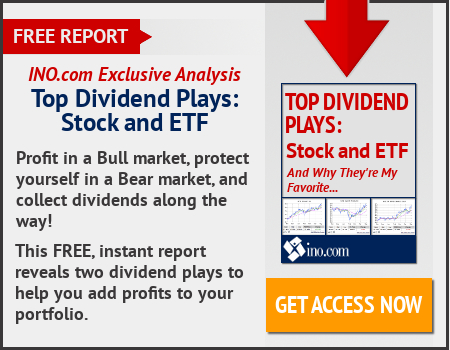 Companies kept adding to payrolls in Aug while measures of slack in the labor market were little changed, signaling steady hiring in the face of lackluster global growth. Payrolls climbed by 151K last month following a 275K gain in Jul that was larger than previously estimated, according to the Labor Dept. The forecast called for 180K. The jobless rate & labor participation rate held steady, while wage gains moderated & hours worked were the lowest since 2014. The Aug figure is consistent with a simmering-down of payrolls growth so far this year as the economy slogs thru a period of weak investment & some companies have difficulty finding workers. The unemployment rate, derived from a separate survey of households, was 4.9% for a 3rd month, as the labor force increased, with a little more than ½ of those entering finding work. The participation rate, the share of working-age people who are employed or looking for work, was also unchanged at 62.8%. The underemployment rate held at 9.7%, as the number of people working part-time for economic reasons rose slightly. 6.05M employees were in part-time jobs but wanted full-time work, up from 5.94M in the prior month. Average hourly earnings rose 0.1% from a month earlier to $25.73, following a 0.3% increase in the prior month. The year-over-year increase was 2.4%, compared with 2.7% in the 12 months thru Jul. The average work week for all workers decreased by 6 minutes to 34.3 hours in Jul, the lowest since 2014 & the first drop in 6 months.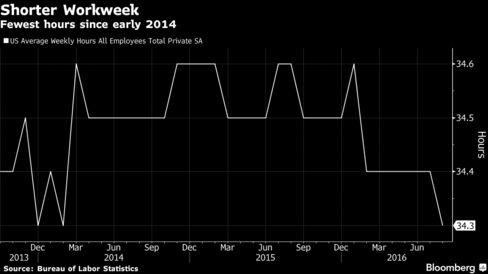 Factories cut payrolls by 14K, the most in 3 months. Employment at construction companies fell for the 4th time in the last 5 months.
Federal Reserve Bank of Cleveland pres Loretta Mester said there's a "compelling" case for gradually raising interest rates, with the US economy approaching the central bank's targets on employment & inflation. "Policy has to be forward-looking," Mester said. "If you have a forecast and inflation is moving up to your target and you're at full employment, then it seems like a gradual increase from a very low interest rate is pretty compelling to me. Pre-emptiveness is important." She declined to say precisely when she believed rate increases would be necessary. Investors see a roughly one-in-four probability that the Fed will act later this month, based on pricing in federal futures funds contracts. Mester, who votes this year on the FOMC, said the Fed must take seriously the risk to financial stability caused by keeping rates low for too long, although she said she didn't think the central bank was currently "behind the curve." Nor did she see signs of financial instability already in the economy. Mester rejected the argument made to a number of Fed officials last week by a coalition of community activists that continued low interest rates are needed to extend the benefits of economic recovery to disadvantaged minorities. "I do not believe that at this point in the business cycle, the current very low level of interest rates is an effective solution to these longer-run issues," she said.
Fed's Mester Calls Case for Gradual Rate Increases 'Compelling'
OPEC's crude production climbed to a record last month as increased output from Gulf members made up for persisting losses in Nigeria & Libya. Supplies from OPEC rose by 120K barrels a day to average 33.69M a day in Aug amid increases by Iran, Iraq & Kuwait. The group is due to hold informal talks in 3 weeks in Algiers, where Russian President Vladimir Putin says an agreement can be reached to limit output. Iraq led the increases, boosting supplies by 70K barrels a day to 4.48M a day, after the gov resumed flows from Kirkuk thru a northern export pipeline controlled by the Kurds, signaling progress in a long-standing dispute over payments. Iran raised production by 60K barrels a day to 3.62M as it continues its return to global markets. Saudi Arabia, the group's biggest & most powerful member, raised output 30K barrels a day to an all-time high of 10.69M a day. The kingdom increased production to meet both domestic consumption, which peaks in the summer with surging air conditioning use, & demand from customers overseas, Energy Minister Khalid Al-Falih said. OPEC nations will meet Russian Energy Minister Alexander Novak for informal talks on the sidelines of an industry conference in Algiers scheduled for Sep 26- 28. Putin would like Russia & OPEC to reach a deal on freezing supply, he said yesterday. Nigeria suffered the biggest production decline among OPEC members last month, sliding 130K barrels a day to 1.44M a day. Companies are struggling to repair pipelines in the oil-rich Niger Delta following attacks claimed by militant groups. Libya experienced the next-biggest losses, sliding 40K barrels a day to 260K a day as the country's political factions continued to feud over the control of oil export terminals.
Stocks are higher on modestly encouraging data from the jobs report. Aug is a slow month & the previous 2 had very strong employment gains. The data is roughly in line with expectations. Trading is slow & will slow further as traders leave early..
Dow Jones Industrials