Dow fell 46 decliners over advancers almost 5-4 & NAZ was off 24. The MLP index rose 1+ to the 318s & the REIT index gained 3+ to the 365s. Junk bond funds inched higher & Treasuries were sold. Oil jumped up to the 47s (see below) & gold was lower.
AMJ (Alerian MLP Index tracking fund)
5
5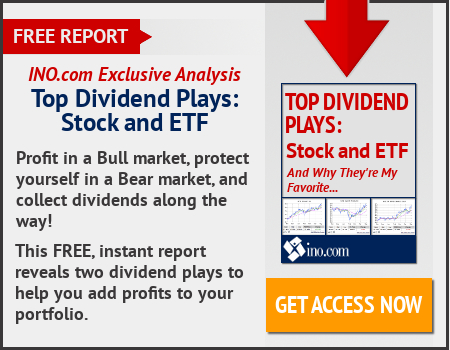 Goldman Sachs (GS) would be among banks most impacted by recommendations issued today by US banking agencies that seek an end to merchant banking & a limit on Wall Street's ownership of physical commodities. The report, based on a multi-agency study of banks' investment activities required by the Dodd-Frank Act, highlighted ways to fix potential risks that the agencies didn't think were handled by the law's Volcker Rule ban on certain trading & investments. Among the Federal Reserve suggestions was a call that Congress repeal merchant banking powers & the ability of certain banks to engage in physical commodities businesses, hallmarks of GS business. The Office of the Comptroller of the Currency also said it planned to curtail a bank's ability to hold copper & to restrict lenders' holdings of hard-to-value securities. Additional Fed recommendations include repealing exemptions for industrial loan companies, which are lenders generally owned by non-financial firms, that allow them to operate outside of rules that affect banks. The Fed's section of the report said its aim was to level the playing field among financial firms & "help ensure the separation of banking and commerce." The agencies, also including the FDIC, were required to issue the report to Congress & the Financial Stability Oversight Commission almost 5 years ago.
Fed Urges U.S. Ban on Wall Street Buying Stakes in Companies
Apple, a Dow stock, breaking with tradition, said it won't provide opening weekend sales numbers for new iPhone launches. The smartphone maker has sometimes shared early pre-order numbers & usually has announced how many iPhones were sold on the weekend after the device officially became available. The company said that it won't continue the practice because it's "now at a point where we know before taking the first customer pre-order that we will sell out of iPhone 7." By not releasing opening weekend sales numbers, AAPL is holding back a key metric used to determine the success of an iPhone launch. The world's most valuable company is banking on the new lineup, in addition to new wireless AirPods headphones & water resistant Apple Watch models, to avoid a holiday qtr year-over-year sales drop. AAPL said that "initial sales will be governed by supply, not demand," leading the company to determine that opening weekend numbers are "no longer a representative metric for our investors and customers." The iPhone 7 & iPhone 7 Plus become available for pre-order on Fri, while AAPL & retail stores will begin selling the phones Sep 16. The new iPhones include updated designs with 2 new black color options, stereo speakers, upgraded cameras with new zooming abilities, faster & more efficient processors, improved graphics performance for gaming, better battery life & lack a headphone jack. The new iPhones start at $649 with 32GB of storage. This shift in strategy on iPhone sales marks the 2nd time AAPL has held back some numbers in recent years. For example, following the introduction of the Apple Watch in 2014, the company said it wouldn't release sales numbers for the device for competitive reasons. AAPL forecast for the qtr ending in Sep hasn't changed. It projected fiscal Q4 revenue of $45.5-47.5B. The company reported sales of $51.5B & more than 48M iPhones sold in the same qtr last year. The stock sank 2.85 after dropping yesterday on the product announcement. If you would like to learn more about AAPL, click on this link:
club.ino.com/trend/analysis/stock/AAPL?a_aid=CD3289&a_bid=6ae5b6f7
Apple Won't Announce iPhone 7 Opening Weekend Sales Numbers
Apple (AAPL)
Oil prices surged after US inventory data showed a surprisingly large drawdown in crude stocks as imports into the Gulf Coast slid last week due to Tropical Storm Hermine. Crude stocks dropped 14.5M barrels last week to 511.6M barrels, the biggest weekly drop in stockpiles since 1999, according to the Energy Information Administration. A modest increase in inventories was expected. US crude was up $1.83 (4%) to $47.33 per barrel. Tropical Storm Hermine, which threatened the Gulf Coast refining region last week, scuttled some oil production & limited imports & shipping. Gulf Coast crude imports hit the lowest levels on record last week, data showed, even though the storm ultimately did not harm Gulf facilities. Russian average oil production was close to 11M barrels per day (bpd) in Sep 1-7.
Oil Jumps, Nears $50 on Large U.S. Crude Stock Draw
Stocks did little again today. They ony extended the trend of sideways trading. Mario Draghi talked down asset buying plans, a solid negative for the bulls. Oil is highly volatile, responding to every piece of data & whims of the market. More gov intervention for the banks is another negative for stocks. These are not the best of times for stocks when a continuation of low interest rates is the basis for stocks remaining near record levels.
Dow Jones Industrials