Dow gained 55, advancers over decliners 5-2 & NAZ went up25. The MLP index added 6+ to the 508s & the REIT index rose 2+ to the 344s. Junk bond funds edged higher & Treasuries were slightly lower. Oil recovered some of yesterday's losses (more below) & gold inched higher.
AMJ (Alerian MLP Index tracking fund)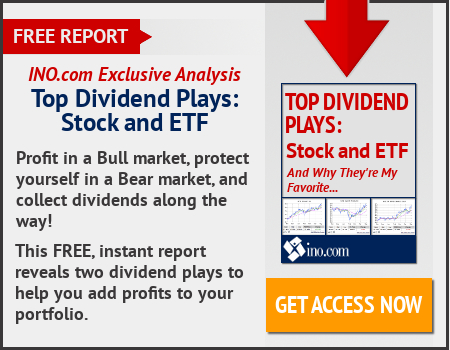 Janet Yellen said the US could boost its potential growth rate & productivity by removing barriers that limit women's participation in the workforce. The Fed chief didn't discuss the path of interest rates or near-term monetary policy issues in her text on the history of women's participation in the economy, which drew some examples from her own family. Yellen said the gap in pay between women & men has shrunk but is "still significant," as is the underrepresentation of women in certain occupations & industries. She also said more flexibility is needed to help women balance professional and family life. "If these obstacles persist, we will squander the potential of many of our citizens and incur a substantial loss to the productive capacity of our economy at a time when the aging of the population and weak productivity growth are already weighing on economic growth," Yellen said. The Fed chair said that in 1948-1990, rising female participation in the workforce contributed about a½ percentage point per year in the potential growth rate of real GDP. Still, the participation rate of prime-age working women stands at about 75%, she said, below prime-age men at more than 88%. "One recent study estimates that increasing the female participation rate to that of men would raise our gross domestic product by 5 percent," She said, citing a World Bank report in the footnotes. Yellen added reforms such as flexible work arrangements, affordable child care & paid family leave could all work toward boosting female participation.
Yellen Says More Women in U.S. Workforce Would Help Boost Growth
The Trump administration is ready to dangle a carrot in front of America's most powerful CEOs who are holding mounds of cash in offshore accounts. "We're going to have a big, one-time incentive rate to get a lot of the money offshore, you know, we know there's trillions of dollars offshore, we want to get that back into America." Otherwise, Cohn, says, that money will get invested elsewhere. "We know if we don't incentivize people to bring that money back it will get invested overseas, we've seen it. The history tells us exactly what's going to happen." As it stands now, CEOs are fed up with too much red tape. "Industry wants to do things in this country, they want to invest, they want to invest capital, they want to hire people as you see in the jobs report, but they can't because the regulatory process is just too difficult, so they go to other countries where the regulatory process is easier and the tax rate is lower. We need to fix both of those" said Cohn. He explained that along with that one-time offer, the administration is also working on a long-term solution to make it easier for companies to shift their funds around. "Over time we are going to a territorial system that will deal with a lot of these issues and will allow companies to move their capital around as they want to."
The number of rigs exploring for oil & natural gas in the US rose by 7 this week to 877. A year ago, only 415 rigs were active amid a slump in energy prices. Baker Hughes said that 703 rigs sought oil & 173 explored for natural gas this week (one was listed as miscellaneous). Texas added 6 rigs, Louisiana gained 4, Alaska & Wyoming were up 2 each. Colorado & New Mexico increased by one apiece. Oklahoma declined by 5 rigs while North Dakota, Pennsylvania & West Virginia each lost one. The US rig count peaked at 4530 in 1981 & bottomed out last May at 404.
Oil futures settled highe, but fell more than 6% for the week. Prices suffered from a steep decline in the previous session, settling Thurs at their lowest level since Nov 29, the day before OPEC announced an agreement to curb crude production. The recent drop prompted traders to question the effectiveness of OPEC's efforts to rebalance the market. June WTI crude rose 70¢ (1.5%) to settle $46.22 a barrel. But prices lost about 6.3% from a week earlier.
Trump signs $1T spending bill keeping gov open thru Sep.
Fed Vice Chair Stanley Fischer issued a firm defense of the central bank's decision not to follow a mathematical rule when deciding monetary policy as Reps in Congress renew efforts to curb the current consensus-based approach. "Adherence to a simple policy rule is not the most appropriate means of achieving macroeconomic goals," Fischer said. Rep lawmakers have been pushing to make the Federal Reserve set interest rate policy using a mathematical rule. Under the proposal, the Fed would commit to moving interest rates up or down according to changes in the jobless rate & inflation. The rule adopted would be made public & any deviation from it would lead to a congressional audit. The Fed has said such a rule would harm the economy & impinge on the Fed's independence. Fischer noted that policymakers can - & do - consult prescriptions of policy rules as part of a wider exercise in which they also gather perspectives & economic factors such rules cannot include. He also warned that just because rules may have worked well in the past does not mean they can adequately predict the future. "Emphasis on a single rule as the basis for monetary policy implies that the truth has been found, despite the record over time of major shifts in monetary policy," Fischer noted. "We should not make our monetary policy decisions based on that assumption." The differing perspectives of the Fed's rate-setting committee, currently 15 strong, which blends regional inputs was the best way to be predict structural changes in the economy & to note changes that may otherwise fly under the radar, Fischer added.
The Apr jobs report boosted optimism about the economy in Q2. But the stock market paid little attention until the PM when there was a little buying. The goings on in DC are getting more attention. And that continues to be a confusing mess. However Dow & NAZ remain at or essentially at record highs hoping that all will work out, leading to an improved US economy.
Dow Jones Industrials