Dow climbed 56 (off the best levels), advancers over decliners 4-3 & NAZ gained 43. The MLP index was up fractionally to the 304s & the REIT index added 1+ to the 342s. Junk bond funds were mixed & Treasuries pulled back after yesterday's advance. Oil went higher (more below) & gold fell to 1248.
AMJ (Alerian MLP Index tracking fund)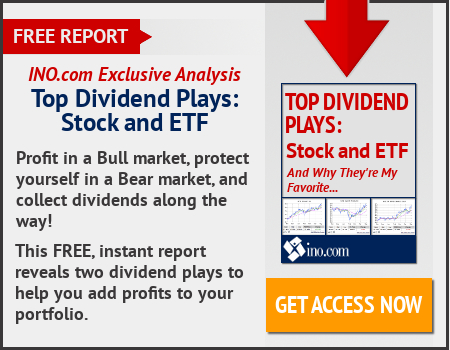 Wal-Mart, a Dow stock & Dividend Aristocrat, gained momentum in its fight against the competition, with its online sales growing at their fastest clip in at least 5 years. The e-commerce business saw gross merchandise volume, a measure of all the goods it sells online, soared 69% in Q1. Total revenue climbed 1.4% to $117.5B. The results signal that the company is getting a payoff from an ambitious online expansion, which included last year's acquisition of Jet.com. It now boasts 50M items on its website, up from 35M the prior qtr, & its offer of free 2-day shipping for orders of $35 or more has boosted site traffic & spending. Growth at brick-&-mortar stores was more measured, though it still outpaced estimates. US same-store sales rose 1.4%, narrowly beating expectations, fueled by a 1.5% increase in customer traffic. That marked the 11th-consecutive period of positive sales in the. EPS amounted to $1 in the period, topping the 96¢ estimate. The company expects EPS of $1-$1.08 in Q2, compared with a projection of $1.07. US same-store sales will grow 1.5-2%, higher than the 1.2% expected. "We feel good about the momentum across the business," CFO Brett Biggs said. CEO Doug McMillon has used the Jet acquisition as a catalyst for online growth. After buying that business in Sep, he put co-founder Marc Lore in charge of US e-commerce & WMT followed up with some smaller deals earlier this year. "Customers are placing more repeat orders and spending more," Lore said. "The companies we have bought have helped to build our assortment and give us expertise in categories that are hard to crack." Lore said the company was seeing "nice growth" from its latest offer of discounts on some web orders that are picked up in store. It now offers curbside pickup of online grocery in 670 locations. The stock jumped up $2.42. If you would like to learn more about WMT, click on this link:
club.ino.com/trend/analysis/stock/WMT?a_aid=CD3289&a_bid=6ae5b6f7
Wal-Mart's Online Sales Soar as Retail Giant Pursues Amazon
Wal-Mart (WMT)
The political brouhaha in DC looks unlikely to blow the Federal Reserve off course from raising interest rates further in 2017, starting with an increase next month & following up with another later in the year. Fed watchers said the central bank will press ahead with plans to gradually normalize rates in order to rein in an economy that officials believe is growing above its potential & prevent an already-stretched labor market from becoming even tauter. Policy makers in Mar penciled in 2 more rate hikes for this year after raising them for the 3rd time since the end of 2015. They next meet on Jun 13-14, when they'll update their forecasts for the economy & interest rates. Traders in the money market put the odds of a rate rise next month at about 65%, down from 85% on May 9. They also lowered the probability of a 3rd hike this year to well below 50%.
Officials at the ECB have indicated that their next meeting would be a good time to consider shifting toward an exit from the stimulus efforts that have boosted the economy. A written account of the Apr 27 meeting showed members of the bank's rate-setting council expect that if the economic recovery keeps going, they would have to consider "adjusting the present formulation" of their stance. The ECB rate-setters will have new forecasts for inflation & growth at that meeting, which would put the council "in a better position to take stock." The ECB has said it plans to keep pumping €60B ($67B) in newly printed money into the economy through bond purchases at least thru the end of the year. Markets are awaiting more clarity about when that program will end. Phasing out the bond purchases will have wide-ranging effects on markets, investors & govs. The purchases have been holding down longer-term interest rates & flooding the banking system with cash in hopes of promoting lending to businesses so they can expand and hire. Tapering the purchases will likely mean higher interest costs for long-term borrowers such as govs & people who buy homes through mortgages. It should also increase returns to savers with conservative holdings & make it easier to fund pension savings plans. Ending the purchases would also be a prelude to the bank raising its main short-term interest rate benchmark, currently at a record low of zero.
The leading economic index rose 0.3% in ​Apr & pointed to faster growth in the spring after a weak Q1 reading on GDP, according to a survey produced by the Conference Board. The increase in Apr follows a 0.5% gain in Mar. "The recent trend in the U.S. LEI, led by the positive outlook of consumers and financial markets, continues to point to a growing economy, perhaps even a cyclical pickup," said Ataman Ozyildirim, director of business cycles research at the board. "First quarter's weak GDP growth is likely a temporary hiccup as the economy returns to its long-term trend of about 2%." A measure of​ current conditions rose 0.3%, as did a"​lagging" index. The LEI is a weighted gauge of 10 indicators designed to signal business-cycle peaks & valleys.
The Trump administration formally launched its effort to renegotiate the North American Free Trade Agreement with Canada & Mexico to try to win better terms for US workers & manufacturers. With a letter to lawmakers, US Trade Representative Robert Lighthizer said he triggered a 90-day consultation period with Congress, US industries & the American public that would allow talks over one of the world's biggest trading blocs to begin by Aug 16. Renegotiation of NAFTA was a key campaign promise of Trump, who frequently called the 23-year-old trade pact a "disaster" that has drained US factories & well-paid manufacturing jobs to Mexico. Lighthizer said reporters that NAFTA has been successful for US agriculture, investment services & the energy sector, but not for manufacturing. He added that he hopes to complete negotiations by the end of 2017. "As a starting point for negotiations, we should build on what has worked in NAFTA and change and improve what has not," Lighthizer said. "If renegotiations result in a fairer deal for American workers there is value in making the transition to a modernized NAFTA as seamless as possible." In his letter to congressional leaders, Lighthizer said NAFTA needs modernization for digital trade, intellectual property rights, labor & environmental standards, rules for state-owned enterprises & food safety standards.
Oil prices rose ahead of next week's OPEC meeting as key producing countries suggested they would adhere to production cuts to reduce a global crude glut. US crude oil rose 23¢ to $49.30. Market watchers are growing more confident that OPEC & other producers including Russia will extend output cuts of almost 1.8M barrels per day (bpd) until the end of Mar 2018. Russia's largest oil producer Rosneft will meet agreements with OPEC on oil output reductions, Igor Sechin, Rosneft CEO said. Oil rose on yesterday after news of a drawdown in US crude inventories & a dip in US output. The US Energy Information Administration said inventories fell 1.8M barrels in the latest week to 520.8M barrels. In addition to US crude stocks drawing down for the 6th consecutive week, the EIA showed an increase in refining rates. US crude production has climbed 10% since mid-2016 to 9.3M barrels per day, close to levels from top producers Russia & Saudi Arabia.
Oil Rises; Producers Pledge Output Cuts Ahead of Meeting
Stocks rose as a sense of calm (relatively speaking) has settled in DC following wild gyrations in recent days. Trump's push for renegotiating NAFTA is a favorable sign for the stock market. The earnings for WMT were helpful after disappointing results from other retailers in Q1. But the negative partisan attitude in DC which has gotten out of control suggests getting any legislation done is going to be very tough. Meanwhile the stock market is priced to perfection. Tough times remain for the bulls shown by modest selling into the close.
Dow Jones Industrials