Dow jumped up 89, advancers over decliners more than 2-1 & NAZ gained 49. The MLP index was up 1+ to 311 & the REIT index added 1+ to the 345s. Junk bond funds crawled higher & Treasuries were off a tad. Oil settled at a one month high on hopes for extending production cuts & gold continues rising as shown in its chart (more on both below).
AMJ (Alerian MLP Index tracking fund)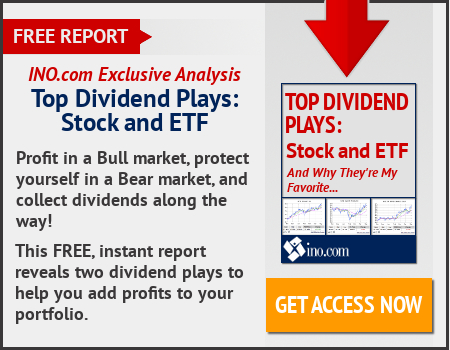 A jump in US investment & hiring plans for 2017 indicates manufacturers & service providers have grown more optimistic about the economy since late last year, the Institute for Supply Management's twice-yearly forecast showed. Purchasing managers at factories anticipate capital spending will rise 5.2% vs 0.2% gain seen in prior survey conducted in Nov. Purchasing managers at service providers expect capital spending will rise 5.2% vs 0.2% drop seen previously. Employment to increase 1.3% at factories (prior forecast 0.6%); to climb 2.2% at service firms (previous survey 1.2%). By margins of more than 4-1, companies that were increasing their capital spending plans gave the reason as an improved business outlook rather than prospects for regulatory reform. The results are consistent with a post-election surge in confidence & support projections for a pickup in economic growth following a weak Q1. At the same time, businesses & consumers are still awaiting evidence that Pres Trump & Congress can quickly enact & implement legislation covering tax cuts, infrastructure investment & fewer regulations. Given that most businesses pointed to the general outlook for demand as reason to feel upbeat, ISM manufacturing survey committee chairman Bradley Holcomb said it might not matter if the administration gains little traction on tax reform or deregulation by year's end. The trajectory for industry will be positive regardless, he said. "Part of the expectation, I'm guessing here, is that the tax reform will take a while and that it may not be at the level that was initially discussed," he said & added that he expects to see capital-expenditure plans pick up if things continue to go well in the economy. Revenue to rise 4.4% at factories & 4.1% at service providers, both little-changed from Nov projections.
Investment, Hiring Plans Show Rising U.S. Business Optimism
Iraq backed a proposal from Saudi Arabia & Russia to extend output cuts for 9 months, removing one of the last remaining obstacles to an agreement at the OPEC meeting this week. OPECs' 2nd-largest producer, which only reluctantly agreed last year to cut output, had previously favored prolonging the historic supply cuts by just 6 months. Saudi Minister of Energy & Industry Khalid Al-Falih secured the backing of his neighbor for longer curbs after talks in Baghdad with his Iraqi counterpart Jabbar Al-Luaibi. Separately, non-OPEC nations Oman & Mexico also confirmed their support for a 9-month extension. "The trend now regarding the output deal is to extend for 9 months," Al-Falih told said. "All I talked to from inside OPEC are supporting the nine months of cuts," although the final decision won't be made until the group's meeting on May 25, he said. OPEC & 11 non-members agreed last year to cut output by as much as 1.8M barrels a day. The supply reductions were initially intended to last 6 months from Jan, but the slower-than-expected decline in surplus fuel inventories prompted the group to consider an extension. Data from the US Energy Information Administration indicate that maintaining the curbs into Q1-2018 would bring stockpiles back in line with the 5-year average, OPEC's stated goal. Iraq has the worst record of compliance with its pledged cuts, pumping about 80K more barrels of oil a day than permitted during Q1. If that deal gets extended to 2018, the nation will have even less incentive to comply because capacity at key southern fields is expanding & 3 years of fighting Islamic State has left it drowning in debt. Additional countries may join the supply cuts, but the overall agreement won't be substantially changed, Al-Falih said. "There is an initial willingness for one or two countries from the small producers to join," he added. "Slight changes might happen but deal in its general shape will be almost the same we agreed upon last December."
Iraq Paves Way for OPEC Deal With Support for 9 More Months
The Trump administration & the House put off a major ruling on the future of ObamaCare subsidies, telling a federal court they will need more time to decide how to proceed as the GOP awaits a score on its revamped health care bill this week. The subsidies in question, known as cost-sharing reductions, are paid to insurance companies to compensate them for care given to low income individuals. About 7M people on the exchanges in 2017 qualified for these subsidies (58% of enrollees) according to government data. Thru the end of fiscal year 2016, more than $13B in CSR payments were made to insurers, according to the IRS budget office. The GOP-lead House brought the suit against the Obama administration about 3 years ago under the guise that the payments were not authorized by Congress & therefore should be considered unconstitutional. The gov appealed a ruling by a District Court that sided with the GOP. Until a decision is made, the Trump administration will continue paying these subsidies to insurers. Last month, the ousted Molina Health (MOH) CEO, Dr J Mario Molina, threatened to completely pull out of the exchanges if the gov did not continue funding cost-sharing reductions. As one of the largest insurers on the exchanges, Dr. Molina said at the end of Apr the marketplace would "collapse" under those circumstances. Multiple insurance companies have already pulled out of the ObamaCare exchanges due to the damaging costs. Additionally, Anthem (ANTM) also announced it intends to pull out of most, if not all, of the marketplaces is currently participates in by 2018. Meanwhile, the House has advanced a GOP-led measure to repeal & replace ObamaCare Act, which is expected to be sent to the Senate for a vote after receiving a cost analysis by Wed from the CBO. The new health care bill would phase out CSRs by 2020.
Gold prices climbed to settle at their highest level in 3 weeks. The yellow metal found support as the € strengthened, pressuring the $ index, as German Chancellor Merkel blamed the ECB policies for marking the single currency "too weak." Jun gold rose $7.80 (0.6%) to settle at $1261 an ounce, the highest since Apr 28.
Business optimism remains strong & that will be helped by the overseas military orders that Trump has arranged. Oil is strong on the prospects for extending production cuts into next year. However at the same time gold is hitting short term highs (negative bets on the stock market). Chaos regarding ObamaCare & what will happen to it is being ignored for the time being. Dow only needs about 300 to reach a new record & that could come this week.
Dow Jones Industrials